« Posts by admin
Nice little place on the web that sells some pretty cool items, including Steel Flame jewelry pieces.
One of the neat things they've designed and produced are called "Q-rings"…they are separable keyrings made from Titanium and that have small tritium tubes installed for locating your keys in the dark. Great little keyrings! I have two of them!
Rick Hinderer makes the most awesome folding knives I've ever seen. I used to have a Strider SnG and sold it after receiving my Hinderer XM-18 — it is that good. The lockup is solid and centered well…it "locks up like a bank vault", which is what I'd read about it before ordering it. I do not forsee ever needing another folding knife and to that end, have ended up selling off almost every folding knife I had.
Being a soldier, I was fortunate to be able to order from Mr. Hinderer directly prior to my deployment to Iraq. He is so swamped that he will only sell directly to verified active military members and law enforcement officers. I truly appreciate that he does this…I took my ACU camo scaled XM-18 with me to Iraq and carried it every time I went outside our camp and when I was not at work. Due to our duty positions, we were not allowed to have knives (or cell phones, cameras, etc.) in our work area.
Rick also makes awesome pens. I used to have a Deluxe Kubaton/Pen set, but sold it. I still have a Kubaton, a full-size Titanium pen, and an Investigator pen. The Investigator pen is the one I carry most often because it fits in the pen slots on my ACUs. It and the full-size pen (and kubaton, of course) are all very effective self-defense tools, in trained/skilled hands.
Peter Atwood makes great little tools out of premium cutlery steel and Titanium. I have been fortunate to obtain a small handful of his wares. I think my favorite is the "Prybaby"…I have one that was made quite a few years ago that has a spanner cut into it to adjust Strider folding knife pivots.
He also makes really cool machined beads ("Lanslides")…I have one in Teflon and one in Titanium. Sure wish I could get some more. They work great for lanyards.
His latest item is called the 'Roid Rench…it is a Prybaby made of almost 1/4″ thick stock! They are huge! My other one is made of about 3/16″ stock and the difference is huge…also, the steel he used on these new ones is CPM 3V and MUCH tougher than previous steels due to the heat treatment he did with these (Rockwell 57-59).
Anyway, great stuff from a gentleman. He is a pleasure to deal with and has all sorts of great ideas. I admire him for his ability to create these items from his ideas. Here are some pics of items I have or have had in the past:
Hello! Thanks for stopping by my webpage.
I am an OIF Veteran and I enjoy hand-crafting chainmaille jewelry. If you'd like to see pics of some of my recent work, please check out my gallery. If you like what you see, please let me know by clicking on the comment link here — I'd be very happy to work with you to make a custom piece that is uniquely yours. Don't forget to include a way to contact you (preferably email). I do not keep a list of any sort…email addresses are *only* used to contact you about your custom item. Once you receive your item and are happy with it, I will not email you again. I hate spam and do not do that to folks.
Here is a youtube video review from a fellow that bought one of my wallet chains…

An example of a flame-colored 3-in-3 Titanium wallet chain.
Soon, I will also begin posting reviews of items I've received to evaluate. I have an interest in all sorts of gadgets and military gear, so if you do too you'll want to bookmark this page and check it frequently. 🙂
If you'd like to read more about me and my chainmaille work, please check out this page.
Here are a couple of Pinterest pages I've set up to show my work…
TitaniumWorx Pinterest page
ParacordZone Pinterest page
Thanks again for looking. Please feel free to contact me if you have any questions.
I just received a really neat, little (and I mean LITTLE!) Titanium neck knife from "photorob" on www.cpfmarketplace.com. He's a great fellow to deal with and I am very happy with the transaction and especially with his workmanship on this knife!
His website is http://www.amslerknives.com. You can see a lot of his work there.
I've received his permission to use his pics, so will post them here…his pics are a lot better than mine would be. All pics are courtesy of Amsler Knives.
The knife is about 5″ long overall and the cutting surface is 2″. The blade is the "tanto" type. The pin and lanyard bushing are also solid Titanium and are anodized to match the finish on the blade. On the one I got, the blade has a brushed teal green and bronze finish. It's just beautiful.
The scales on this one are ACU camouflage pattern G10…the manufacturer of this type G10 calls it "digital camo", but it is indeed ACU.
There's also a nice little black nylon lanyard tied to it with a matching teal green anodized Titanium bushing. It really compliments the knife very well.
The Kydex sheath is molded to assure a snug fit for the knife, but still be easily deployed quickly, if needed. He also incorporates a unique o-ring locking system for additional retention where rapid deployment may not be necessary. It is a very clever system. There are plenty of grommets installed in the sheath to allow various attachment methods. You could easily attach it to a Tek-lok fastener, for instance.
Now, one of the scales is cut to fit a large Tritium tube and set with Norland 61 clear epoxy. The one on mine is white and you can read by it in complete darkness, if necessary. It looks great in low light hanging around your neck.
So, to conclude, this is a great little custom Titanium neck knife and his prices are quite reasonable for the work he puts into these.
This guy makes really nice miniature replicas of your military medal ribbons:
http://www.miniaturemilitaryribbons.net/
He's sometimes a little hard to deal with, but the end result is worth it. The mini ribbons look great and are really well-made.
I also had some mini ribbons done at another place, but they were horrible to deal with. The guy on the phone was rude and indifferent about when I got my ribbons. Also, the reason I had to call them was because their website does NOT have all the attachments listed for each medal. For instance, you cannot add a campaign star to your Iraq Campaign Medal. I called them to ask them why and they used the excuse that they "haven't updated their website yet". Hey…guess what…it's been like that for three years now. So no, I'm not buying it…literally. Their ribbons are also actual cloth, so you can't get them wet. The ones from the link above are acrylic and are waterproof.
My acrylic ones from the link above have worn ok, I guess. I wear them on my hat and the paint has begun to come off in some places, so that's a little disappointing. But overall, they are very nice. I think if I were to send it back to the guy with the paint coming off, he'd probably fix it, but I'll wait until it looks pretty bad before trying to send it back. Right now, it doesn't look too terrible…just noticable.
I received one of their refillable "No. 9" leather journals as a gift to take on my deployment to Iraq. It really is a beautiful journal. It's made of very nice leather and has a wonderful aroma to it.
I received the standard unlined journal (I don't care for lines in my journals so I can make sketches and drawings in them), but they also offer the journal and refills in the lined version, fishing, and golf.
Another little thing they do is include a miniature moon pie with your order. I thought that was a nice touch.
The quality of their leather seems very nice, though it is not as heavy as the leather used by Saddleback Leather for their Moleskine covers…and Col. Littleton doesn't offer any alternate colors for almost all their leather items, so that's a shame. The journal I have is sort of a medium brown color…just slightly lighter than a football. Their other leather items on their web page look darker than my journal, but still no choice of color. You're going to get whatever color leather they used to make the item at that particular time, I guess.
Their analogs of Saddleback's items (such as the iPad cases, satchels, etc.) cost a lot more than even Saddleback's items cost. If I were ever in a position to spend that much money on something like that, I think I'd go with Saddleback just for the 100-year warranty they offer as opposed to the Col. Littleton slightly ambiguous guarantee of, "a long, long time".
Unfortunately, I haven't seen the Col. Littleton bags in person. Being a soldier and with limited income, I cannot set aside enough money to save up for something that dear right now. If I ever get the chance to, I'll check them out and see if the quality is on par with Saddleback and if so, will revise my review here. I do appreciate Col. Littleton's attitude toward business and how they treat their customers. From reading their webpage and watching some of the videos, it looks like they're a nice laid-back company and quite friendly.
Saddleback Leather makes some of the highest quality leatherware I've ever seen. A long time ago, I purchased a medium briefcase in the chestnut color. It has worn beautifully over the years. Mine is so old, it was made with the (now optional) suede lining in the bag. It's extremely classy, luxurious even…and has the wonderful smell of fine leather.
They use the 4-5 ounce FULL GRAIN leather. This part of the hide is far superior to the "top grain" stuff their competitors use. What that means is the Saddleback briefcase will last for generations instead of a decade or less (the "others).
Their customer service is somewhat of an enigma. I've sent them questions before and received answers that appear as if the person responding hasn't read my actual question and answered some other question instead. Also, their shipping is quite (VERY) slow. I was told it takes 2-3 days to ship something, even if it is in stock. To me, if it takes that long to ship something, that means the company needs to shut down taking orders for a while so they can catch up and ship packages the same day or day after they're purchased -or- they need to hire more people to help with shipping. Heaven knows they make enough profit on the bags, they can DEFINITELY afford to do that.
And…their shipping is extremely high. I asked them if they could ship a very small wallet via USPS First Class or Priority Mail and they pulled the old "handling fee" line with me…they said they "have to use brown paper to properly package the wallet"…right…a wallet…a wallet that even they claim will last for generations is so delicate that it can't be just put in a box and shipped? I mean, really? I'm not buying it…literally…I haven't bought anything from them in years due to their extremely high-priced shipping. You pay the same amount for shipping whether you're in Texas (where they ship from) or Washington state…even though shipping companies charge less to ship the closer you are to the origin. It's just another way for them to pocket some extra cash and I DON'T appreciate that AT ALL.
Finally, if you live in the great state of Texas, you're going to be charged sales tax. My recommendation if you live in TX is to try and find what you want second-hand. You'll get it at a better price, no tax, and reasonable shipping.
I hope Mr. Anderson isn't offended that I call his items "gadgets"…he makes so many really cool, VERY useful little items out of solid Grade 5 Titanium, the term "gadget" fits.
I am fortunate to own several of Tom's creations. He makes them all BY HAND (i.e. NO CNC) in his shop in the basement of his home.
If you want to buy any of his items, I highly recommend them…actually, I cannot recommend them highly enoguh — they are just awesome. You'll see what I'm talking about when you get your items. Don't try to ask him for a discount though…his stuff is priced fairly for the amount of time and work (and tooling) used to make these things. You should see how many steps it takes to make some of these items…you'd probably be shocked…then you'd understand why they cost what they do. Tom's items are made EXTREMELY well and are the highest quality, American-made gear…not cheap, imported junk like other people try to pawn off on the WalMart crowd. This is one reason I really appreciate Tom's items — they are superior in workmanship and materials than anything else like it, the same as my Titanium chainmail pieces and paracord bracelets. He takes his work seriously and pays strict attention to detail and perfection, just like I do with my pieces.
Here are some of the items I have (shown here with a Munroe Dangler and two Ti split rings which are not included with the keychain vial):


Keychain Pill Vial: I have this pill vial attached to a Munroe Dangler that clips to the edge of my pocket. It's the perfect size for me to be able to carry several doses of my pain medication, 800mg Ibuprofen, Advils, etc. It also is double o-ring sealed to keep the cap secured to the vial and also to keep the contents dry.
Small Pill Box (new version shown here is larger than mine…): This pill box is extremely handy for carrying the medication I need to have for my back pain (from the deployment to Iraq…joy…). It is small and very light-weight, so disappears in your pocket until you need your medication. It also has two o-rings to keep the contents dry, even in very humid environments.

Titanium Fid for working with paracord (I actually received the first prototypes of these and helped Tom develop them…): I can't say enough nice things about this tool…especially since I'm the one that asked Tom to make one for me and gave input into its design. 🙂 It is the perfect tool for working with paracord (550 cord) and I make a LOT of items in 550 cord. It is definitely worth the price, as is all the cool gear Tom makes.
Here is a very special item Mr. Anderson made for me. It is a very personal item and I am disinclined to discuss its application here, but it is a beautiful piece and exceptionally executed. You cannot see the seam where the capsule opens, even upon very close examination. It's a beautiful piece. He said it's the smallest capsule he's made to date and will not be doing any more like it. I am very, very fortunate he made this for me.
T-Grip Driver: I carry this tool every day in my gear bag. It is perfect to quickly take apart and reassemble all sorts of stuff you might have to work on. The top spins very smoothly and sometimes I find myself spinning it, just because it's fun. It will take any standard 1/4″ bit driver you have…flathead, Philips, Torx, Allen, etc. Very handy.
Double Exposure Twister Pen: What can I say? This pen is awesome! It gets a lot of looks from friends. It is a big pen and hefty. I saw a pic where Tom hammered it through a 1/2″ (or 3/4″?) sheet of plywood. This pen takes a standard Parker gel ink refill which works very well. Mine is satin finished with gold anodizing in the recesses and looks very similar to this one:

Ti-Pull: A nice, titanium zipper pull.
Turbo Pod: The "Turbopod" is used on items to be able to find them in complete darkness. It does not need to be "charged" with light to use it. It will glow brightly for around 10 years after the tube is made at which point it's brightness will be about half what it was when new. The module may be switched out for a different color also.
Wanted to show a couple of more things here…here is a Large Keychain Vial…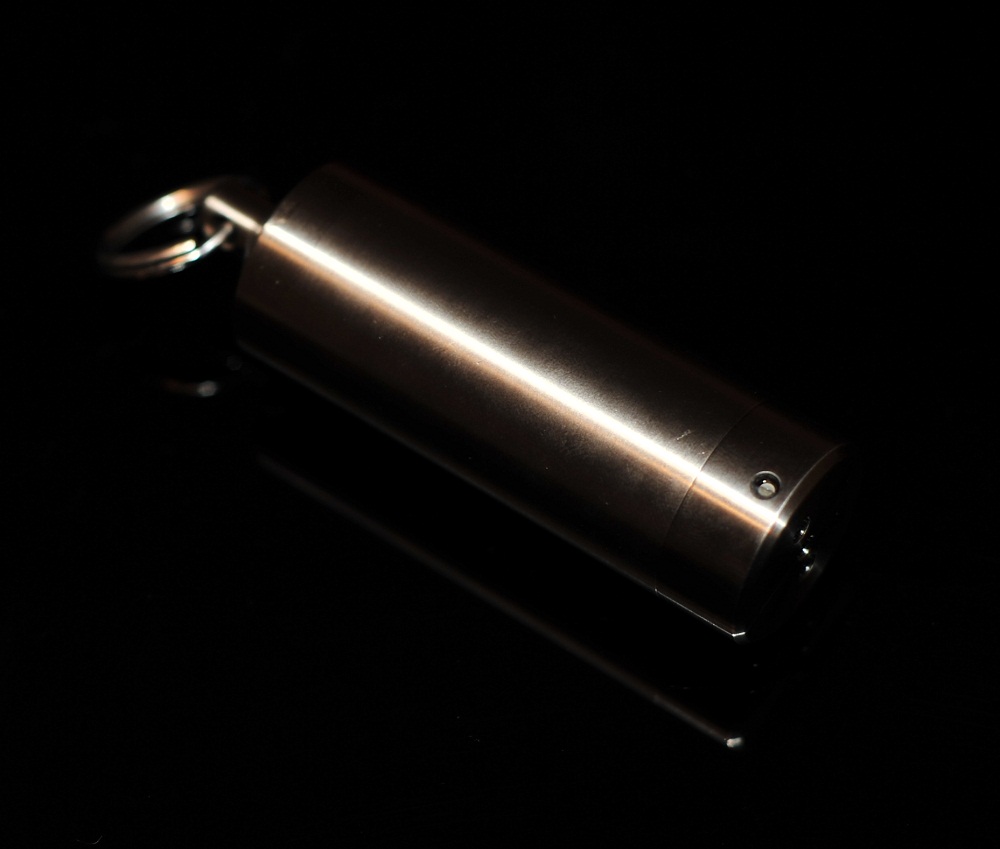 And a couple of his new pens…the Executive III-T (the smaller one, at top) and Bolt-Action Twister pen (the larger diameter one, at the bottom)…both use the same Parker gel ink (Quink) cartridges and write beautifully…